Traffic Sentinel
HP ProCurve Services zl Module

A single HP ProCurve Services zl Module running Traffic Sentinel software gives full visibility into all traffic on the network, allowing timely, targeted actions and control to ensure optimal performance. No additional probes are required; Traffic Sentinel makes use of sFlow® technology intergrated into most existing ProCurve switches to monitor the entire network.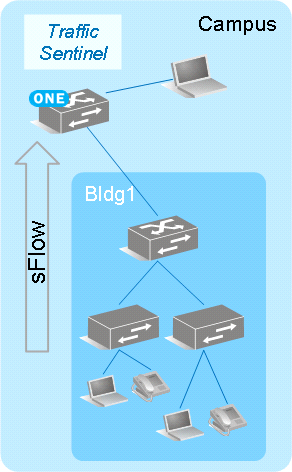 Features
Network-wide thresholds and alarms.
Real-time, graphical display of network traffic.
Customizable interactive and scheduled reporting.
Locate hosts by DNS name, IP address or MAC addresses; location down to the switch port.
Signature-based intrusion detection using Snort™ rules.
Automated NBAD (Network Behavior Anomaly Detection).
Access to traffic data from any web browser or web-aware application.
Monitor the entire network (up to 400 switches and 20,000 switch ports) using a single module.
Easy to deploy and administer. Module fits in a single switch chassis slot; eliminating the need to a dedicated server. Simple setup and administration using switch CLI and web browser.
How to obtain Traffic Sentinel
Obtain an HP ProCurve Services zl Module from your ProCurve reseller.
Register for a free trial.