sFlow-RT
sFlow-RT™ incorporates InMon's asynchronous analytics technology (U.S. Patents 8838774, 9509583, 9712443, 9722926), delivering real-time visibility to Software Defined Networking (SDN), DevOps and Orchestration stacks and enabling new classes of performance aware application such as load balancing, DDoS protection, and workload placement.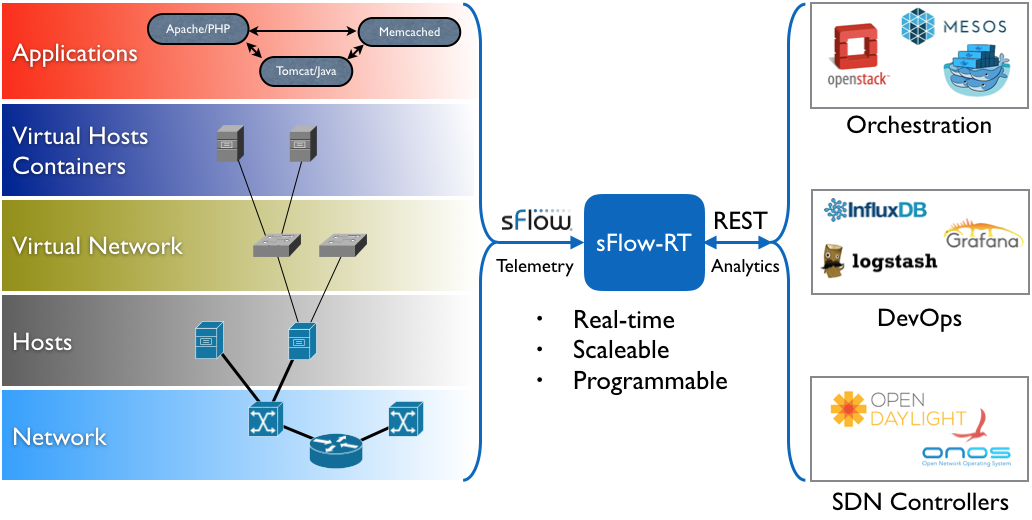 The sFlow-RT analytics engine receives a continuous telemetry stream from sFlow Agents embedded in network devices, hosts and applications and converts them into actionable metrics, accessible through the RESTflow® API. The RESTflow API makes it easy for to configure customized measurements, retrieve metrics, set thresholds, and receive notifications. Applications can be external, written in any language that supports HTTP/REST calls, or internal, using sFlow-RT's embedded JavaScript/ECMAScript.
Network visibility is essential to understanding the interaction between scale-out services running on cloud infrastructure. By combining network, host and application monitoring within an integrated analytics pipeline, sFlow-RT provides visibility into applications and the server and network resources needed to sustain performance.
Download
Visit sFlow-RT.com to download sFlow-RT software and applications.
Support
Please post questions, suggestions and applications to the sFlow-RT group.
Commercial use
Contact
sales@inmon.com
to discuss commercial licensing options for sFlow-RT.