Announcing InMon Traffic Sentinel 5.0
InMon Traffic Sentinel 5.0 is now available for download. This is a free upgrade for customers who have purchased annual maintenance.
Previous release: 4.0
New features include:
Monitor servers with host-sFlow
A new extension to the sFlow standard allows servers to contribute their key performance statistics (CPU, memory, disk...) using the same lightweight counter-push as the switches use to send their interface counters. An open-source implementation is available here. Using this data-feed, Traffic Sentinel 5.0 offers a comprehensive and highly scalable suite of tools for thresholding, trending and comparing servers, virtual-machines and clusters across the whole network. The ability to directly relate server performance to the corresponding network traffic is a vital step towards unifying network and system management, and towards fully-automated, network-aware data-center optimization.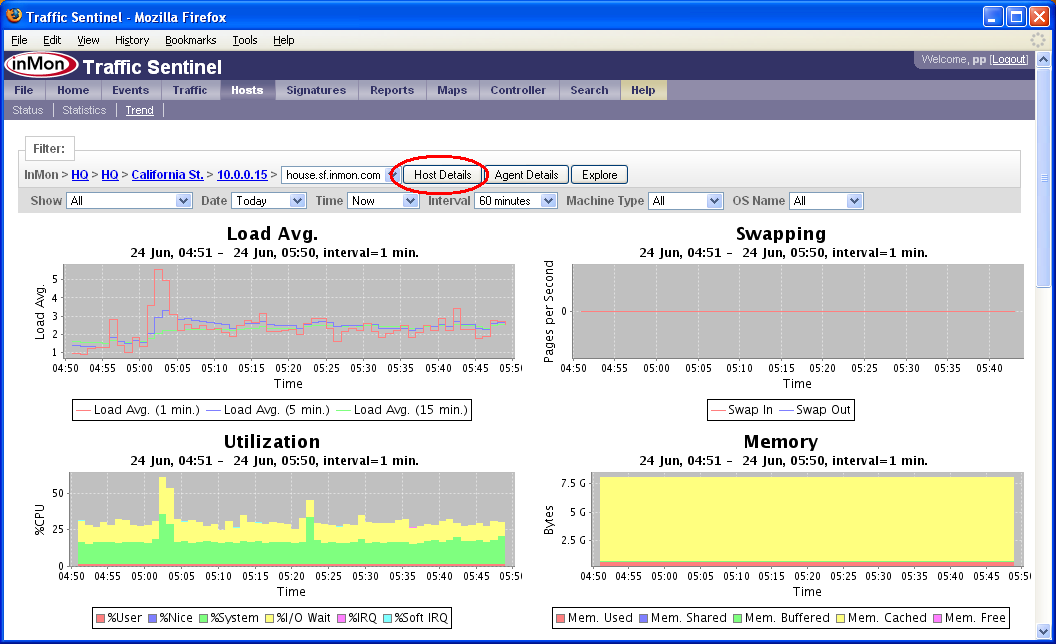 For more information see Host Performance.
Browse application-layer dependencies with new 'layer 4' map
Sentinel 5.0 includes new topology map navigation, and a whole new addition to the family of maps: the layer 4 map. Using real-time traffic data, the application-layer dependencies between clients, servers and services can be browsed interactively, irrespective of how they are carried on the routing (layer 3) or switching (layer 2) infrastructure below.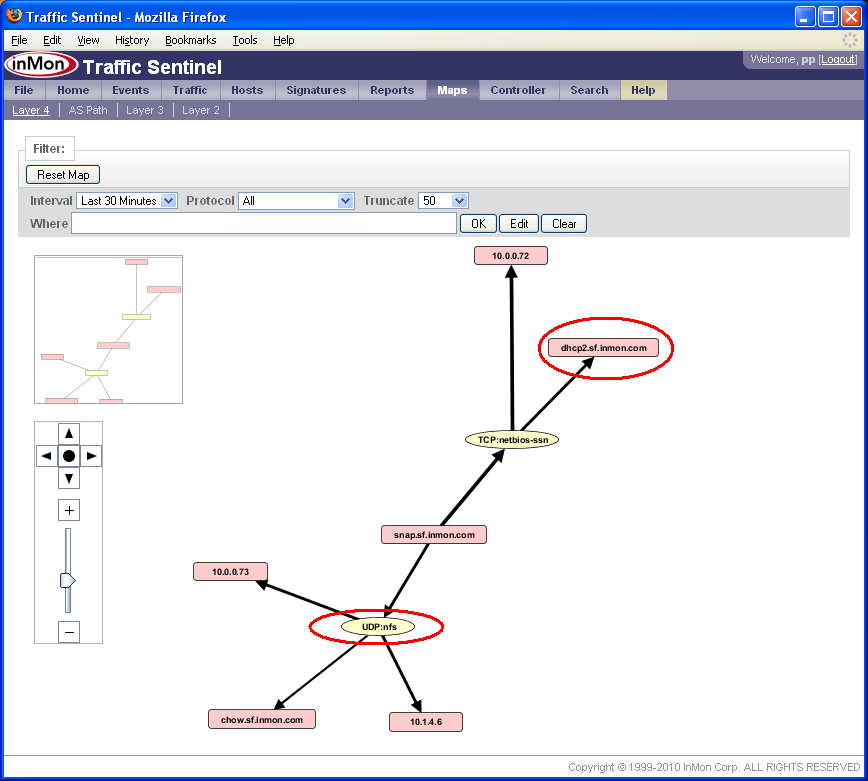 Filter and report using DNS names
In contrast to previous releases, Sentinel 5.0 will attempt to resolve DNS names for all IP addresses seen. The rate of requests can be limited, in which case the focus will be on the busier sources. The names are stored in the traffic database, thereby permitting new filtering and query options (such as "sourcename ~ google").
Performance Improvements
Sentinel 5.0 includes significant performance and scalability improvements. The front-end data collection has been rewritten to avoid collection bottlenecks, a streamlined consolidation/de-duplication step has been introduced to avoid memory-use bottlenecks and the per-interface traffic database has been re-aligned for storage and query performance.
Monitor FCoE (Fibre Channel over Ethernet)
As storage traffic is converged onto the ethernet fabric it represents a sharp increase in the load on the LAN. This increases the potential for congestion. In Sentinel 5.0 the Fiber-Channel-over-Ethernet protocol can be decoded so that storage traffic can be tracked by Fiber-Channel address. (Because sFlow operates at the Ethernet layer, this traffic can be monitored with no change to the sFlow agents in the switches.)
Monitor multicast group membership (IGMP)
Traffic Sentinel 5.0 now decodes the IGMP protocol, used by end-hosts to register for IP multicast traffic. This can help to track the reach of multicast membership by multicast group in deployments that are otherwise too large to follow with SNMP alone.