Virtual Probe
InMon's Virtual Probe is free software that uses sFlow® technology to provide traffic visibility in virtualized environments.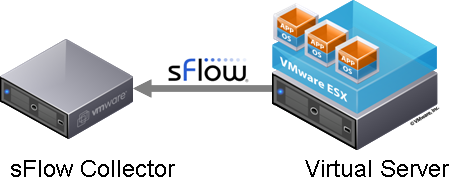 Popular virtual server systems such as VMWare® and Xen® make use of "virtual switches" to connect virtual machines together and to the network. Providing sFlow monitoring for these virtual switches ensures that the benefits of virtualization can be realized without losing the visibility into network traffic that is essential for network troubleshooting, traffic accounting and security.
sFlow is the leading, multi-vendor traffic monitoring technology built into network switches. Adding sFlow monitoring to your virtual switches allows you to monitor virtual switch traffic using the same tools that you are already using to monitor your physical switches.
InMon's Virtual Probe is a software solution that connects to a virtual switch using a virtual mirror/SPAN port. The probe uses patented technology to trace packet paths through the virtual switch and export sFlow data; providing the same information that you would get from a physical switch. Use InMon's free sFlowTrend tool to display traffic flows, or monitor your entire data center using Traffic Sentinel.
Note: If you using are using Xen/XenServer, KVM or VirtualBox you might want to consider using the Open vSwitch as your virtual switch since it includes integrated sFlow support along with a number of other advanced management features.
Downloads
Please read and accept our License Agreement before downloading this software.
Support
Please send comments to VirtualProbe@inmon.com.